Human Geography: Culture, Society, and Space
[GF41 .D4 2003]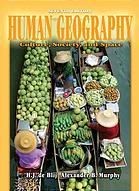 This work focuses on how all humans are more alike than different that despite any differences they might have they are in the end human. The economical, cultural, and geographical factors that cause those differences are discussed. It covers population patterns, urbanization, and global gender inequality.
De Blij, H. J., & Murphy, A. B. (2006).
Human geography Culture, society, and space.
Louisville, Ky: American Printing House for the Blind.
Human Geography: a history for the 21st century
[GF41 .H84 2004]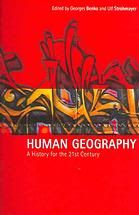 Primarily addresses the political unrest issues and their effect on human geography during the last century. Also addresses cultural, economical, and social aspects on the field and their effect on humanity. It examines human geographical trends and concepts.
Strohmayer, U., & Benko, G. (2004).
Human geography: A history for the 21st century.
London: Arnold.
Human Geography
[GF41 .N67 2004]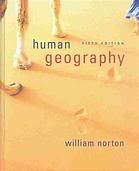 This text provides wider coverage of human geography to include biological, philosophical, and environmental [conservation] aspects. Methodically intensive, Human Geography takes a theoretical and quantitative approach. An abundance of maps, illustrations, diagrams, and photos are provided.
Norton, W. (2004).
Human geography.
Don Mills, Ont: Oxford University Press.
Making Population Geography
[HB1951 .B35 2005]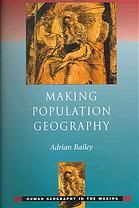 This book takes a demographic approach to explaining modern society by examining the elements that most affect it. Controversial topics covered included the crime of sexual slavery, the matter of teenage pregnancy, and the AIDS epidemic. Case studies are presented so the reader has a better understanding of these issues and how they influence population movements.
Bailey, A. (2005).
Making population geography.
London: Hodder Arnold.
Six Billion Plus: World Population in the Twenty-first Century
[HB849.53 .N484 2007]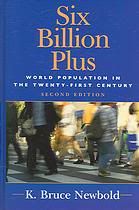 Tackling the environmental and health concerns that currently plague the world population, Six Billion Plus explains why it continues to grow in spite of them. The text illustrates how negative factors actually contribute to the population explosion and are instrumental in shaping the world. Malthusian theory is expanded upon to explain how a shortage of food stuffs and resources due to overpopulation will lead to conflict and warfare.
Newbold, K. B. (2007).
Six billion plus: World population in the twenty-first century.
Human geography in the new millennium. Lanham, Md: Rowman & Littlefield.